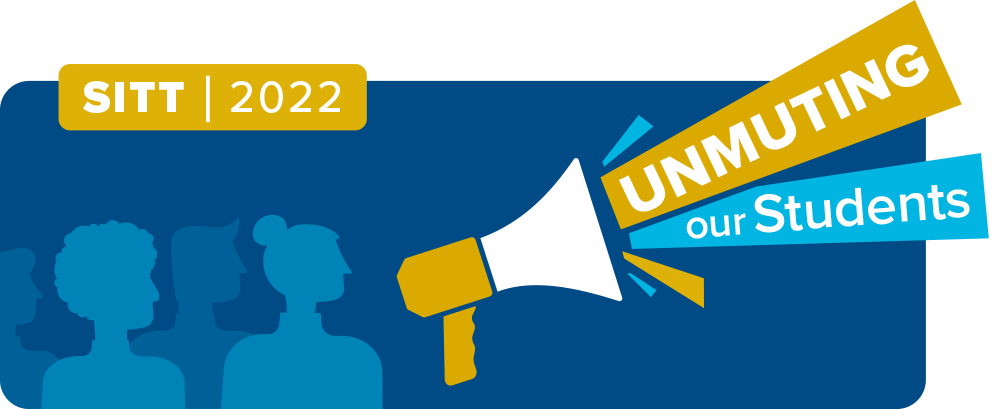 Academic Technology Services welcomes you to the 2022 Summer Institute on Teaching and Technology (SITT). For the third year in a row, SITT will be fully online, blending live webinars and asynchronous content presented by faculty speakers. This year's theme, "Unmuting Our Students," acknowledges the challenge of encouraging students to engage with class activities. SITT will showcase instructors who are building active learning into their online, hybrid, and in-person teaching with a variety of technologies and strategies.
SITT offers attendees a few ways to participate, including joining live talks on September 8 and 9, 2022 and accessing on-demand content that can be viewed before, during, and after SITT. To participate, follow three simple steps:
Visit the Join Live Talks section to see a schedule of live events and register for each talk.
Visit the Watch On-Demand Talks & Interviews section to see a library of pre-recorded videos from faculty, as well as interviews with Dr. Andy Jones.
Prepare to participate in our Discussion Panels featuring the presenters of on-demand presentations. To get the most out of the panels, watch the on-demand SITT content and then submit questions about the content that interests you.
UC Davis is committed to making its programs accessible to persons with disabilities. If you need an accommodation to participate in this event because of a disability, please contact Dr. Margaret Merrill at mmerrill@ucdavis.edu at least two weeks prior to the program with information regarding the requested accommodation.
---
Live faculty-led events will take place between 8:45 am and 1:00 pm PST on September 8 and 9, 2022. Register to join each event by clicking on the "Register" button on the schedule or details page for each talk.
In addition to live events, SITT also features on-demand faculty talks and interviews with Dr. Andy Jones on a variety of topics related to educational technologies, active teaching, and more.
---
If you are experiencing trouble accessing live events or content on this site, please contact instructionaldesign@ucdavis.edu to request assistance.